Journal Entry:
Sat Jan 26, 2013, 11:23 AM

!Attention Please do NOT use any of my art without permission. Thank you!
My laptop is like 7 years old now, I have no idea how I've manage to survive so long with it... or how I managed to draw on it (or do much of anything) with only 1GB of RAM....
But it's finally starting to kick the bucket so it's time to get a new one!
I'm in the process of building a new computer, so hopefully I can start drawing more again soon! I've purchased all the parts, I just need to purchase Windows 7 and I will be all set uwu
My build shall be
- NZXT Phantom 410 Mid-tower Chassis (White with blue LED fan lights!!)
- i5-3570 Intel Ivy Bridge Quad-core processor
- Corsair Vengeance 8GB RAM
- EVGA Super Clocked GeForce GTX 660 2GB GDDR5 Memory Nividia video card
- ASUS P8B75-V motherboard
- Intel 120GB SSD (boot drive)
- 500GB HD
- Corsair Professional Series HX750 PSU
- Some ASUS CD/DVD reader/writer that's not very important
- 24" Sony PS3 3D Display TV for my monitor

- Roccat ISKU illuminated Gaming Keyboard
- Razer Abyssus gaming mouse
All together it cost me a little over $1100... I think (〃 ̄ω ̄〃)ゞ
I did 5 months of research before picking out all the parts and I think I'm pretty happy!
I was going to go with an i7 but the one I was looking at only had a small performance difference compared to the i5 while the i5 was cheaper by $100... (´ω`;; ) I went with what I thought was most affordable...
Anyway I can't wait!!
Mood: Eager
Listening to: All I Know // Fenech-Soler
Playing: Uta No Prince-Sama Repeat
Journal Entry:
Tue May 9, 2006, 7:08 PM

!Attention Please do NOT use any of my art without permission. Thank you!
My mom had to give up Yuki... her cat... a little while ago... she gave her to the humaine society.
However, Yuki didn't like the place... she probably became frightened and started to bite and scratch people.
They put Yuki to sleep.
Yeah... so Yuki didn't even get a year to live. She only had 6 months of her life... which I will cherish through my life. I'll miss her so much, she was the cutest, most adorable, sweetest cat I've yet to come across, and she holds a special place in my heart. Please rest in peace, I hope you get reincarnated as something where even more people will love you for the wonderful being you are.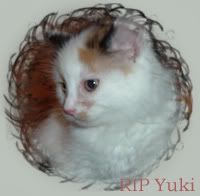 RIP
Mood:
Listening to: Gackt - Redemption
Reading: The Blue Girl - Charles deLint
Watching: Final Fantasy VII: Advent Children
Journal Entry:
Wed Jan 4, 2006, 1:18 PM

!Attention Please do NOT use any of my art without permission. Thank you!
I'm getting a few questions lately so I decided that making this this would be a good idea =3. Hope it answers your questions! If you have one for me, just note me and stuff and I'll be more then happy to answer.

[ :q: ] Will you draw me a picture?
[ :a: ] At the moment? Nope o3o.
I'll be honest -- I'm lazy. I do occasionally draw pictures for very good friends of mine. But that is on occasion, so usually with a purpose... but yeah.

[ :q: ] Will you do an Art Trade with me?
[ :a: ] Nope! For the same reason as above.

[ :q: ] Will you draw me a something if I commission you?
[ :a: ] No, I am not accepting commissions at the moment for the same reasons as I've said above.
Also I'm kind of ehh about doing commissions because I like drawing very much! And I don't want to make it feel like a chore. It's how I relax and unwind and I'm scared of it becoming something stressful for me...

[ :q: ] Can I use your art?
[ :a: ] I actually don't mind, but I appreciate it if you
PLEASE PLEASE ASK ME FIRST
?
And if you don't want to ask me, at least
GIVE ME CREDIT FOR MY WORK
.
I do NOT tolerate people who claim to have drawn my art/copy my art. So just don't.

[ :q: ] What programs do you use to create your art?
[ :a: ] I use a combination of Adobe Photoshop CS3, Paint Tool Sai, openCanvas4.06E Plus, Corel Painter 8.0. I also use a Wacom Bamboo Fun tablet.

[ :q: ] What traditional media do you use?
[ :a: ] I use a lot of stuff.
For paper, I usually look for a large sketchbook, I like drawing large because I then have a lot of room to draw more comfortably. I'm picky with paper texture; I like looking for paper with a very smooth feel to it, but does not look glossy. I also tend to look for one with a good thickness; I find very thin paper does not absorb ink very well and also has a higher tendency to wrinkle when I erase (an example of that type of paper would be printer paper).
Other then that I like to use mechanical pencils with 0.7mm lead for drawing. For inking I like to use the felt tip waterproof pigmented ink with sizes ranging from 0.1-0.7. Sometimes I like using dip pens. I also have some white ink on hand for covering up mistakes and adding effects.
I usually use just a plain white eraser and an eraser stick. I also have one of those grey pliable erasers for cleaning up pencil smudges.
For colouring... I might occasionally use Prismacolor Scholar pencil crayons and I've occasionally use watercolor pencil crayons with a blender pen.

[ :q: ] Teach me how to draw like you!
[ :a: ] I plan on doing video tutorials on my art process that I will post on my
Youtube
channel one day. Until I get off my lazy ass, there shall be nothing of the sort.

[ :q: ] You suck.
[ :a: ] Okay, thanks!!!! Unfortunately I can't say I learned anything from it. Next time try giving
constructive
criticism.

[ :q: ] Is there any other place I can contact you?
[ :a: ]
Gmail
- mandy.pantsu@gmail.com
If you email me, please put the title as "TO BAKA MANDY" followed by the title of your email in capitals. I get a lot of spam so you might go to my spam box, but I go through my spam before I delete it, this will just help me identify which emails are spam and which ones aren't.
Also please don't send me spam or forwards or I will mark your email as spam.

[ :q: ] What about through IM?
[ :a: ] I use MSN and skype... sometimes. Not a whole lot though.

NOW IF YOU HAVE ANY MORE QUESTIONS FEEL FREE TO NOTE ME!